Outdoor Kitchens, Mooresville & Lake Norman, NC
Our Mooresville, NC outdoor kitchens are completely customizable with a variety of features, additions, and designs.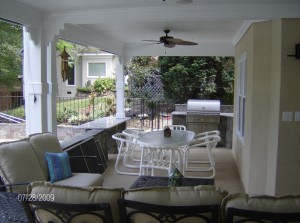 Outdoor Kitchens in Mooresville & Lake Norman – Custom outdoor kitchens add a unique element of luxury and class to an outdoor living space. Enjoy time with family and friends with the convenience of all the essentials of an indoor kitchen. From grilling to entertaining, outdoor kitchens can mean all the difference in spending time together. For homeowners with a love of being outdoors, there are many advantages to an outdoor kitchen.
Outdoor kitchens are completely customizable with a variety of features, additions, and designs. They come in a wide range of sizes to fit the needs of any outdoor living area in Mooresville, North Carolina. With our team at Chad Goodin Signature Homes, your outdoor kitchen can be the centerpiece of your backyard, or it can simply add to the beauty that is already there. We work with many budgets to give you the space you've always dreamed of. Let your backyard be the ideal place to be with an outdoor kitchen. Bring your own ideas to the table, or let us help you construct new ones.
Here at Chad Goodin Signature Homes, we have over 30 years of experience in design and construction. We can help you form any dream into a reality. If you are interested in outdoor kitchens, let us design the perfect one for your home. We can include a grill, sink, refrigerator or any other feature that will make your entertaining outdoors complete. Our designs are exceptional. Your guests will know your outdoor kitchen was designed especially for you. Be the host you've always wanted to be with a stunning, fully-functional outdoor kitchen. Contact us today for more information.
FAQs About Outdoor Kitchens
Whether you love to entertain or just want the option of preparing your meals outside, an outdoor kitchen can be the perfect addition to your yard. And if you're looking for a practical, beautiful outdoor kitchen that you'll enjoy for many years to come, we're the custom builders you can trust to make it a reality for you. Check out the answers to some of our frequently asked questions below or reach out with your own questions to learn more.
What are the benefits of outdoor kitchens?
Some of the benefits of having an outdoor kitchen are obvious, like providing a great space for parties or adding beauty to an otherwise bare backyard. However, there are many other benefits of outdoor kitchens that you may not have considered. To start, outdoor kitchens allow you to cook fragrant foods without the smell lingering inside your house. In addition, they can add value to your home, encourage you to spend more time outside, and even reduce your energy costs since you AC won't have to work as hard to keep your house cool.
How can I keep my outdoor kitchen protected from the elements?
There are plenty of strategies that will help you keep your outdoor kitchen in good condition. Our main suggestion is to place it under a covered patio, pergola, or some other kind of roof to keep the rain off. Fabric coverings will also go far in weatherproofing your outdoor kitchen. Another option is to design your outdoor kitchen with weather-resistant materials, such as stainless steel appliances and non-rusting hardware.
---
At Chad Goodin Signature Homes, we can build beautiful outdoor kitchens in Mooresville, Cornelius, Davidson, Denver, Huntersville and the surrounding Lake Norman area of North Carolina.