Custom Home Builders, Huntersville, NC
You can always trust our expert custom home builders at Chad Goodin Signature Homes to build you a beautiful new home in Davidson.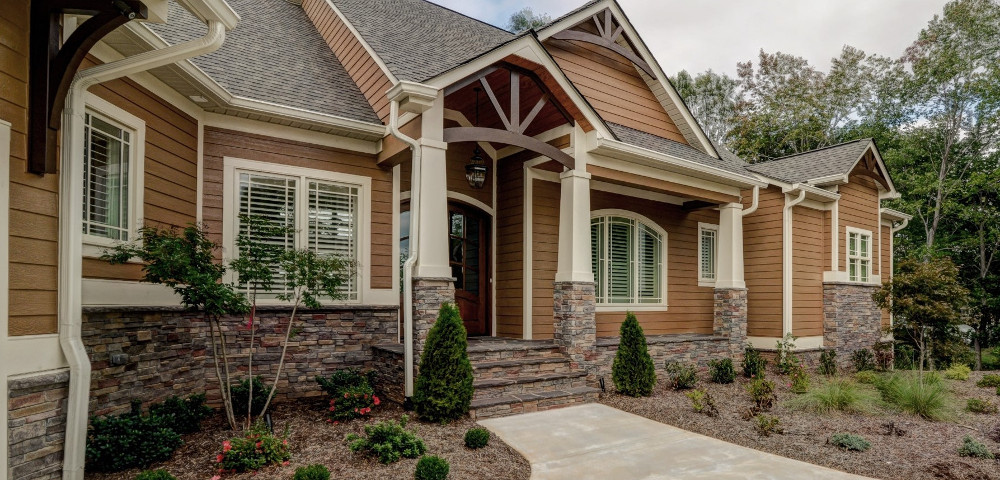 When you're ready to take the next step in making your dream home become reality, it's important to have the right custom home builders by your side. Not all custom home builders offer the same level of service or quality. You can always trust the expert custom home builders at Chad Goodin Signature Homes to build you a beautiful new home in Davidson, North Carolina. We have relationships with local designers and architects to help make your vision come to life, along with a team of skilled construction professionals who will work quickly and efficiently to get your custom home built as soon as possible.
Could You Save Money by Building A Custom Home?
When you hear the words "custom home" your first thought might be that it's already out of your budget. In fact, most luxury home builders aim to have high-end clients build these beautiful homes that have the most expensive items throughout. What you may not know is that building a custom home doesn't always have to break the bank, and in fact there are a few ways it could save your resources down the line.
Set Your Budget – Just like with any home construction project, you need to have a clear view of what your budget looks like. Only once you have a firm number in mind can you begin the custom home building process. Knowing where your funds are allocated, like with the purchase of property, building materials, and interior design, will help you stick to your monetary goal.
You Choose the Materials – One of the biggest perks of building a custom home is that you get to choose everything from the HVAC system to the kitchen sink. That means you have a lot of control over what goes into your home and how you want to spend money on each item. It also means you can invest in the things that are important to you and save on the things of lesser value.
Avoid Renovations – The biggest factor that plays into building a custom home is that you have the home that is perfect for you at the end of the day. There won't be any worries that you'll soon need to renovate this room or remodel that one. Because you allocated your funds exactly where they needed to go, you can enjoy the rewards of living in your perfect home for many years to come.
No matter what type of custom home you want, we can make it happen. When you choose Chad Goodin Signature Homes as your custom home builder, you get more than just a construction crew. You get a team of skilled professionals with years of experience and many completed custom homes under their belts. We'll keep you informed throughout every step of the process, ensuring good communication and a positive outcome. Our team members take the time to understand the wants and needs of every customer.
Building a custom home allows you to get exactly what you want, instead of being limited to specific finishes, floor plans, or exterior designs. When we finish the job, you'll be able to relax in your ideal space, whether that includes a large gourmet kitchen, a wide-open floor plan, or a jaw-dropping master suite. Maybe you want a home that includes all those things! If you can dream it, the custom home builders at Chad Goodin Signature Homes can make it happen.
FAQs About Hiring Custom Home Builders
We know that buying a home is one of the most important decisions you can make in your life. The decision to buy a custom home is an even bigger decision that you should be well informed about before you commit to it. Luckily, we're here to be your resource for reliable information on the topic, and we have answered some frequently asked questions for you below. If you have other questions that aren't answered here, please contact us so we can discuss them with you.
Why should I hire custom home builders?
Because your home is much more than a place for you to sleep at night, it's important for it to be right for you. A floor plan that works for your needs and design elements that you love are within your reach when you hire custom home builders. You won't have to go through the drawn-out process of remodeling either because everything will be perfect from the beginning. In addition, custom home builders like us never cut corners and always construct your home with attention to detail.
How much experience do you have?
We are proud to have over 30 years of experience with land and structural development, integrated design services, and disciplined project management. You can trust the extensive expertise we have gained over the years when you hire us as your custom home builders.
What sets you apart from other custom home builders?
Our customer service is unparalleled. Whether we are staying in touch with our clients every step of the way or catering food for stressed-out homeowners on moving day, we go above and beyond to make sure our clients are happy.
---
At Chad Goodin Signature Homes, our custom home builders proudly serve Mooresville, Cornelius, Davidson, Huntersville, Troutman, Denver, Catawba, Terrell, Sherrills Ford, Ulla, and the surrounding Lake Norman area of North Carolina.