When only the best will do, call on us for your luxury home build.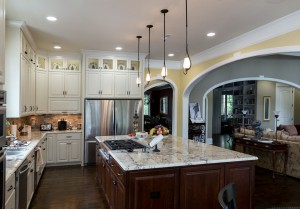 If you are looking for luxury home builders that can build the home of your dreams in the Huntersville, North Carolina area, you have come to the right place. Here at Chad Goodin Signature Homes, we love seeing smiles on the faces of a family as they enter their new home for the first time. We understand that making that happen takes paying attention to even the smallest details and providing quality workmanship throughout.
In the past two decades, we have received several rewards and lots of positive testimonials that tell us we must be doing a few things right. By putting our focus on customer satisfaction, we believe we cover all the bases for a pleasant build experience and results that will exceed your expectations. Here's why our experience matters when it comes to making us the luxury home builders you can trust to design and build your home:
Unlimited Options. Every year we search for the best providers and manufacturers of building materials to add to our growing collection of options. We also have the insight into what works and what won't so you never have to fear that an unproven material will be used in your home.
Unparalleled Workmanship. The devil is in the details—right? We believe so and stay on top of every artisan's capabilities and performance to be sure everything is done properly and to your complete satisfaction.
Efficiency. Experience gets things done more efficiently, reducing the time it takes to get your home from vision to completion.
Economical. We have developed relationships with our suppliers that enable us to get the best prices, and that means savings for you, too!
Compassion. All it takes is a few unhappy customers to learn what people need to be happy. We have had years to show us how to effectively portray our compassion. One way we do that is by going the extra mile, such as catering food to your home on moving day to lighten your load.
If you want to know more about how we set the bar high among luxury home builders in the area, give us a call. We'll be happy to meet with you and start the process of getting to know each other to create a cooperative relationship that ensures success.
---
At Chad Goodin Signature Homes, our luxury home builders proudly serve Mooresville, Cornelius, Davidson, Denver, Huntersville, Troutman, and the surrounding Lake Norman area of North Carolina.