Custom Houses, Mooresville & Lake Norman, NC
Our history of beautifully designed custom houses in the Mooresville, NC area speaks for itself.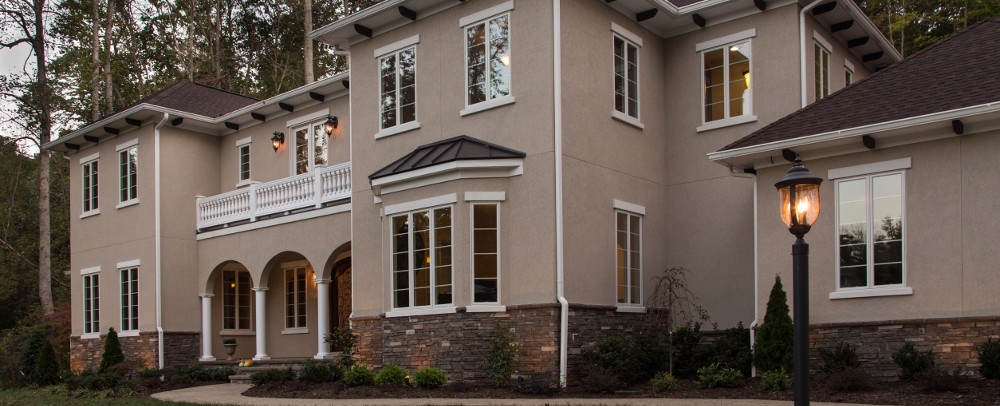 Custom Houses in Mooresville & Lake Norman – At Chad Goodin Signature Homes, we do more than build custom houses; we build dreams. That is our motto, and we have spent over 30 years proving that to our Mooresville, NC clients. Our history of beautifully designed custom houses speaks for itself. We are dedicated to giving you the home you've always wanted, from hardware to floor plan and everything in between. If you have a custom house in mind, let us turn that dream into a reality. We can build houses of any size, from small & cozy to large & luxury. No matter the size of your budget, we can create an amazing new custom home for you.
Our astonishing custom houses are made possible through the many partners and relationships we have developed through the years. From design to completion, every aspect of the project will be catered to your personality, desires, and style. Even if you only have a simple vision of your dream house, there is no better place to start than with us at Chad Goodin Signature Homes. We can help you fully form every aspect of your dream house by giving suggestions and offering solutions for everything from large floor plans to small millwork details. We feel the key to success is open communication between ourselves, our clients, and our partners in every step along the way.
We believe in providing honest and dependable services to every future custom home owner. Our excellent reputation demonstrates this dedication to you. Our custom houses represent all the good qualities we see in ourselves and our own company. We never settle for anything less than extraordinary. Your satisfaction is our #1 priority, and we know you will love your new custom house!
FAQs About Custom Houses
We know that the choice to build a custom house is one that you don't make lightly. Because we understand how important this decision is, we're here to help you get all the information you need before moving forward. Below, you will find the answers to some of our frequently asked questions about custom houses. We hope you will find this information valuable, and we encourage you to reach out if you need clarification or if you have other questions of your own that you would like us to address.
Are custom houses more expensive than spec homes?
Not necessarily. Custom homes can be more expensive than spec homes (move-in ready homes), but it all depends on what you're looking for. While you might associate custom houses with luxury homes owned by extremely wealthy people, our team is just as capable of building custom houses on a lower budget. In addition, custom houses can actually save you money because instead of spending thousands of dollars on remodeling in addition to the spec home itself, you can put your budget toward getting the results you want from the beginning.
What are some of the benefits of custom houses?
In addition to providing the ideal floor plan for your needs and beautiful design elements that fit your tastes, custom houses allow you to build in the location of your choice, control your costs, and enjoy materials and workmanship of the best quality.
Why should I choose you to build my custom house?
We have over 30 years of experience that you can rely on when it comes to building your home. In addition, we prioritize clear communication whether we are going over your options, answering your questions, or just staying in touch with you throughout the process, so you're never in the dark about our progress.
---
At Chad Goodin Signature Homes, we can build beautiful custom houses in Mooresville, Cornelius, Davidson, Denver, Huntersville, Troutman, Catawba, Terrell, Sherrills Ford, Ulla, and the surrounding Lake Norman area of North Carolina.