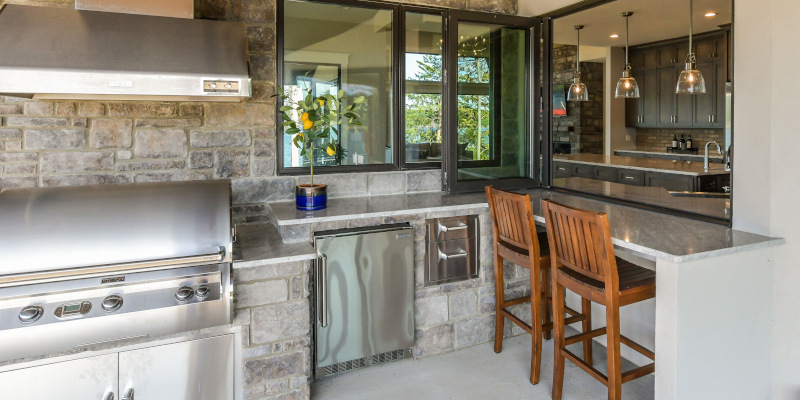 What's better than cooking a great meal inside your home? That's easy: creating an amazing meal outside in a beautiful outdoor kitchen, enjoying the perfect weather and fresh air! Outdoor kitchens are a growing trend among homeowners who love to entertain guests or enjoy cooking in the great outdoors. These unique kitchen setups allow you to cook, entertain, and enjoy the beautiful outdoor scenery all at once.
What are Outdoor Kitchens?
An outdoor kitchen is an extension of your indoor kitchen that is designed to be installed outside. It typically includes a grill, cooktop, sink, refrigerator, and storage space. It's the perfect addition to your backyard or patio and can provide you with a great outdoor cooking experience.
Why Choose an Outdoor Kitchen?
Outdoor kitchens are becoming increasingly popular because they allow homeowners to entertain guests while cooking up a storm. They are also a great way to add value to your home and improve the overall look and feel of your outdoor space. Plus, who doesn't love cooking and dining outdoors on a gorgeous day?
What Options Are Available for Outdoor Kitchens?
When it comes to designing your outdoor kitchen, the possibilities are endless. You can choose from a variety of materials such as stainless steel, stone, and tile. You can also incorporate features like a pizza oven, bar seating, or even a fire pit to make your outdoor kitchen truly unique.
What Maintenance and Care are Involved with Outdoor Kitchens?
To ensure your outdoor kitchen stays in top condition, it's important to clean and maintain it regularly. This includes cleaning the grill and other cooking surfaces, wiping down countertops, and covering appliances when not in use.
Overall, outdoor kitchens are a fantastic addition to any home. They provide a unique and enjoyable way to cook and entertain guests, while also enhancing the overall look and feel of your outdoor space. So why not consider adding an outdoor kitchen to your home today? Reach out to our professionals at Chad Goodin Signature Homes and get your dream outdoor kitchen started.